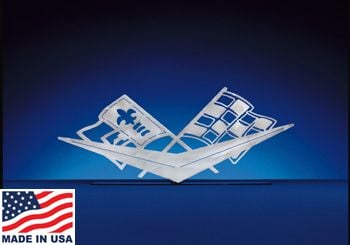 1961 Corvette Emblem Metal Sculpture
Corvette 1961 Emblem in Steel. These unique metal sculptures are unlike any Corvette collectible you've ever seen! The material and craftsmanship convey the power and energy that are the essence of the Corvette.

The two-dimensional, stylized, brushed metal cutout showcases the 1961 Corvette emblem. The finely crafted sculpture is approximately 15 inches and is mounted on a flat metal base.

Please allow 1-3 weeks for delivery.
Second Day or Next Day shipping is not available for this item.