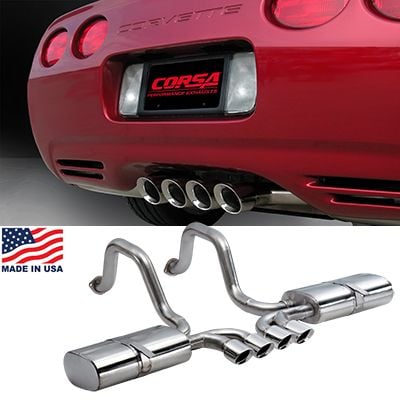 C5 Corvette Sport 3.5" Tigershark Exhaust System
CORSA's Patented RSC® Technology is designed for an aggressive sound under acceleration and a drone-free experience during cruise. Every system is engineered specifically to each vehicle without drone while cruising. Description & Features: 2.5" Axle-Back, Dual Rear Exit with Tigershark 3.5" Polished Pro-Series Tips
Tips: Dual Rear Exit Tigershark 3.5" Polished Pro-Series
Sound: Sport. High performance sound with a distinct rumble at idle and aggressive sound through the gears. No drone during cruise.
Flow: Average of 43% gain over stock Power Gains: Average increase of up to 10 HP and 11TQ Please allow 2-3 weeks for delivery. Special shipping charge of $75.00. Fits: C5 1997-2004 Corvette C5 or C5 Z06 5.7L V8.