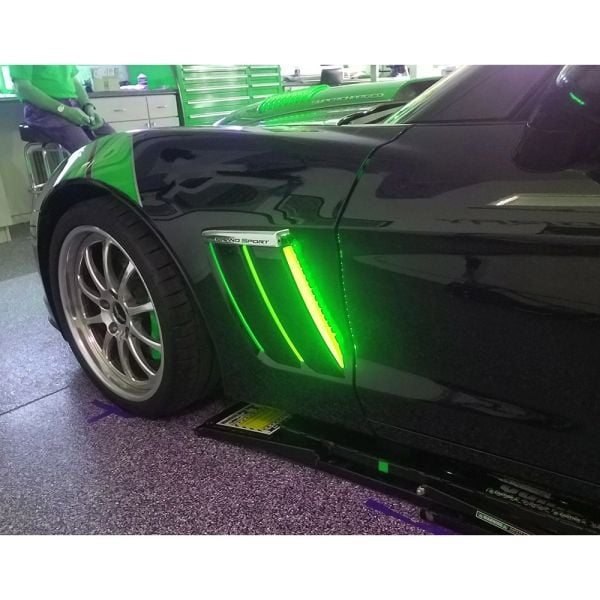 C6 Grand Sport Corvette RGB LED Fender Cove Kit
Please read the instructions before purchase, some vehicle disassembly required.
To view installation instructions, click here. You don't have to pick one color for your fender coves, you can have them all! Our Grand Sport kit has 2 led strips per side to light up the "gills" on each front fender. Two remote options allow you to choose between a key fob system which doesn't have quite as many functions or a Bluetooth system that runs off an app on your smartphone. This is a list of some of the functions on the Bluetooth App: Color wheel with brightness control to pick any color and brightness you want.
Tri color jump
7 color jump
Fade and strobe functions in all colors
Breathe function
Play music to control LEDs
Timer function to shut off LEDs
Custom programs you can set up
Operation guide on app
The key fob controller has the following functions.17 static colors, strobe and heartbeat function for every color
Last function memory
ON/OFF
Key fob remote is RF, so no line of sight is needed. Kit comes completely prewired with only 2 connections to make under the hood. The LED strips are self-adhesive and waterproof for years of service. Instructions and everything you need to install is provided.
Please allow 1-2 weeks for delivery. Expedited Shipping (1-day, 2-day, 3-day) is not available for this item. Please note for returns the manufacturer requires the item to be in resale able condition and requires an RA# prior to return. Please contact us for further details before returning this item at: CustomerCare@corvettestore.com