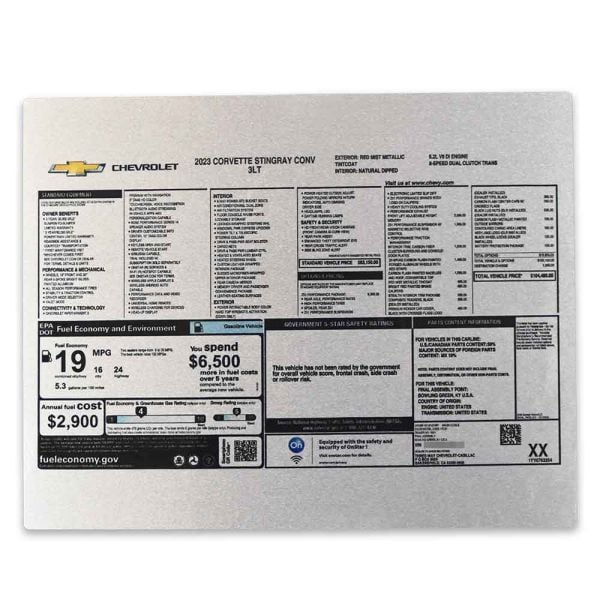 Corvette Aluminum Window Sticker
In stock
Options:
No Additional Copies
All fields above must be filled in to place your order.
Please note: the following are not available for 1982 – VIN numbers 109001 thru 117800, 118201 thru 118400, 119201 thru 119800.

Corvette Aluminum Window Sticker
A sleek and shiny way to show off your car's options! Comes on an 11" x 14" brushed aluminum sheet and also includes a paper window sheet. Your Corvette collection just isn't complete without a copy of your window sticker!
The National Corvette Museum offers window stickers for any Corvette assembled in Bowling Green since the GM Plant opened in 1981. Also called a Monroney Label, this is the sticker that is affixed to a new car when it is delivered to the consumer. A law was passed by Congress in 1958 requiring all automobile manufacturers to affix a price label to all new automobiles showing Manufacturers Suggested Retail Prices for a vehicle and all options installed at the factory. This law was proposed by Senator John Monroney, and was to begin with new 1959 models.
If your car is a show car, this informational piece is a must! Some car shows such as Bloomington Gold require you to have a list of options on the car. What better way than a reproduction of the window sticker? These are re-makes or replicas of the original window sticker, the original window sticker was delivered with the car and there was no copy made in most cases. We take original window stickers from the Corvette Plant, as well as the build sheet and many other references to produce an exact replica of the original. Please note Window Stickers are not available for export models.

Please allow 4-6 weeks for delivery. Special shipping charge of $12.00 in the contiguous United States. Second Day or Next Day shipping is not available for this item.