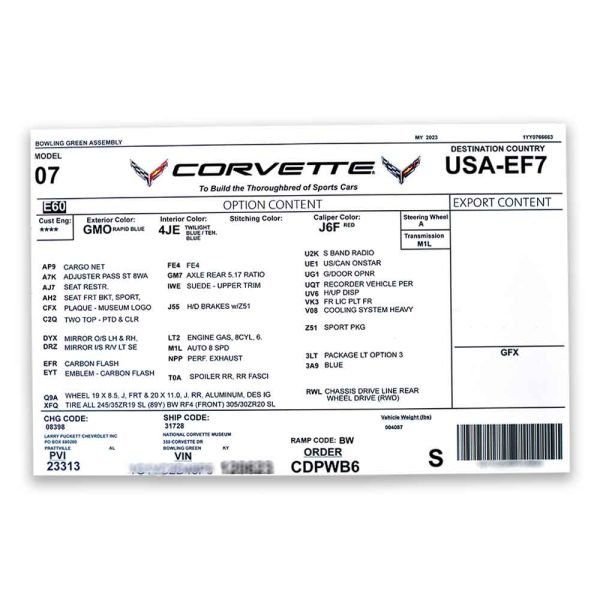 Corvette Build Sheet
Re-stocking soon
Options:
Single Build Sheet
All fields above must be filled in to place your order.
Please note: the following build sheets are not available for 1982 – VIN numbers 109001 thru 117800, 118201 thru 118400, 119201 thru 119800.

Corvette Build Sheet
Your Corvette Collection just isn't complete without a copy of your build sheet! The National Corvette Museum offers build sheets for any Corvette assembled in Bowling Green since the GM Plant opened in 1981.

The Build Sheet, often considered "the holy grail" to many folks is a cool item to find. It is often the only means of verifying exactly what options came with your particular car, and helps you determine how many Corvettes were produced exactly like yours. The build sheet is what goes down the line with the car when it is being assembled. It indicates to the line worker exactly what goes on that specific car.

Build sheets vary in size from year to year, 8½" X 11″ up to 11″ X 17″ and you have the option for it to be laminated.

FAQ
Q. Does the build sheet contain the build date? No. In 2006 the Assembly Plant quit putting dates of any type on the build sheet. Prior to that, the date on the build sheet was NOT the date the car was built, but the date the order was entered for production. It has been reported that it took 7-10 working days from the time the order was entered until the Corvette rolled off the production line.
Q. Does the key code appear on the build sheet? No. The key codes do not appear on the build sheets due to security reasons. Key codes can only be obtained through an authorized dealer. 
Q. How can I obtain a build sheet for a Corvette built in St. Louis? We do not know. We have been told by General Motors that all records from the St. Louis Plant were destroyed in a fire after the Assembly Plant was relocated to Bowling Green in mid-1981. 

Please allow 3-5 weeks for delivery. Special shipping charge of $12.00 in the contiguous United States. Second Day or Next Day shipping is not available for this item.