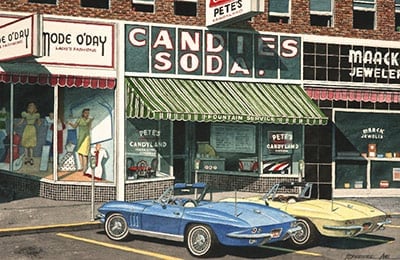 "Pete's Candyland" Giclee print by Dana Forrester
"I grew up in Kirksville, Missouri, in the 50's and 60's when the local teen hangout was Pete's Candyland. It had a complete Soda Fountain with table and chairs, a magazine rack, all kinds of candy, and the first Pinball Machine that I ever played. I never became a Pinball Wizard, but I enjoyed the soda fountain menu that included real Cherry Coke, Banana Splits, Cherry Phosphates, and the legendary "Helen Special." Aah, the peanuts, bananas and fudge! I'm not sure when Pete's Candyland closed, probably during my college years, but recently I found a photo of Pete's on a Kirksville Memories website and decided it was time for another tribute to my youth. I actually changed the angle of view from one side to the other and included two 1965 Corvette convertibles at the curb. Pete's window shows one of the tables in the window as well as the old brass cash register and a Pinball Machine like the one in my studio. Pete's menu is on the wall, too. I'm surprised at how much I remembered about Pete's, but the photo really brought back the scale of the place." - Dana Forrester 11"x17" unframed - $100 and a special shipping charge of $19
14"x22" unframed - $200 and a special shipping charge of $26
19"x29" unframed - $300 and a special shipping charge of $36
26"x40" unframed - $500 and a special shipping charge of $51 Please allow 1-2 weeks for delivery.
This item is not available for 2nd Day or Next Day delivery.