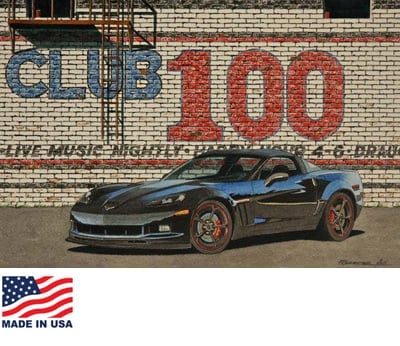 "Reflections of a Century" Giclee print by Dana Forrester
"Since Chevrolet is celebrating its 100th Anniversary with a Centennial Special Edition Corvette, I just had to do a painting of one of them. All of those Corvettes are painted "Carbon Flash Metallic," a beautiful high metallic black available for one year only on this edition. I chose the Grand Sport Coupe for my painting with the optional black wheels with red rims. I experimented with a different mixture of blues for the reflective portion of the sky onto the Carbon Flash Metallic, and I'm very pleased with it on this black car. I wanted to note the 100th Anniversary on a brick wall sign, so I created a wall for the Club 100, a spot reminiscent of a place my wife Judy and I used to frequent in the early years of marriage." - Dana Forrester 11"x17" - $100 and a special shipping charge of $19
14"x22" - $200 and a special shipping charge of $26
19"x29" - $300 and a special shipping charge of $36
26"x40" - $500 and a special shipping charge of $51 Please allow 1-2 weeks for delivery.
This item is not available for 2nd Day or Next Day delivery.