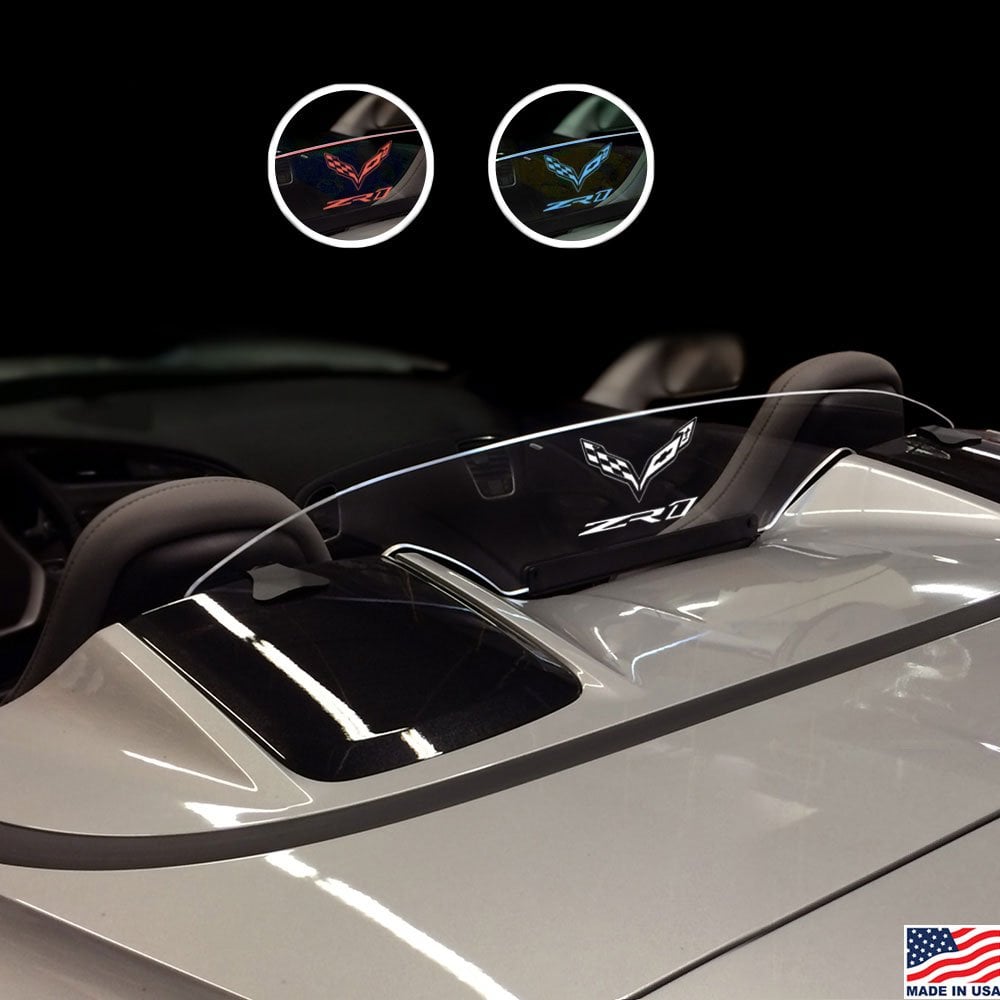 ZR1 C7 Emblem Illuminated Windrestrictor
In stock
Engraving Option:
Option 11
The WindRestrictor® brand windscreen for the C7 Corvette (2014-Current) installs using a renowned bracket system which is the most refined, high quality mounting system on the windscreen market today. This product is the ONLY product in the market that remains in place once installed, while also requiring no drilling of holes into your brand new Corvette. **NO REMOVAL REQUIRED to put your top up and down!**A lifetime warranty is included with the product which guarantees that the product will never fade, yellow, peel, or crack like others on the market.Installation Details:
The wind deflector includes printed instructions which are simple to understand and are written intended for a "Do It Yourself" modification. You will also be provided with a video link with step-by-step explanations. The installation requires no drilling or permanent modification.What makes the WINDRESTRICTOR brand superior? According to Wind Screen Reviews, Corvette enthusiasts prefer a functional product that complements the Corvette's aggressive body style. The #1 Rated WindRestrictor brand was specifically engineered to answer this call. The windscreen's dimensions and design were created to reduce the maximum amount of wind turbulence while remaining in place once mounted for ultimate convenience. Our sturdy bracket system was created to allow for a simplistic yet strong installation, unlike others on the market which may rattle or vibrate while driving. The brackets are powder coated to match the beautiful black finish of the panel on which it mounts for a classic, OEM look.The wind screen itself is more than thirty times stronger than glass and crystal clear to guarantee absolute rear visibility with no glare. Older mesh style nets are a thing of the past! There is no need in worrying any longer if you will be able to see through the windscreen while enjoying your nighttime cruises.You will notice a significant difference in wind noise which will allow you to love the drive in your convertible even more! You will be able to maintain a more consistent cabin temperature, hear your radio better, and carry on a conversation with a passenger or on the phone without having to raise your voice.Another distinct feature exclusive to the Wind Restrictor brand is that the windscreen illumination can be used as additional to draw more attention to the rear of your Corvette as you come to a stop. This safety feature is especially helpful to catch the attention of drivers who are following too closely.Add on Accessories Available:
Extreme Lighting Kit (ELK) - $100.00
The ELK is a brand new upgraded option for the Windrestrictor® It allows the driver to utilize a remote control to choose between multiple colors of illumination for the product at any given time. There are several static, single color options as well as a few different "fading" options and cool effects all from the push of a button. This is the perfect option for car shows! Also, perhaps the best feature of this package is the remote on/off switch where you can turn on or off the unit at any time with the press of a button. Please allow 2-3 weeks for delivery.Special shipping charge of $30.00 in the contiguous United States.Second Day or Next Day shipping is not available for this item.
Please note: for returns the manufacturer requires the item to be in resale able condition. A 10% restock fee will be deducted from the total amount credited to your account. Please contact us for further details before returning this item at: StoreCustomerCare@corvettemuseum.org.